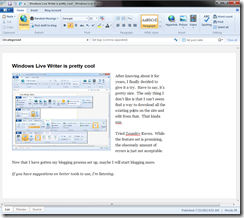 After knowing about it for years, I finally decided to give Windows Live Writer a try. Have to say, it's pretty nice. The only thing I don't like is that I can't seem find a way to download all the existing posts on the site and edit from that. That kinda sux.
Tried Zoundry Raven. While the feature set is promising, the obscenely amount of errors is just not acceptable.
Now that I have gotten my blogging process set up, maybe I will start blogging more.
If you have suggestions on better tools to use, I'm listening.